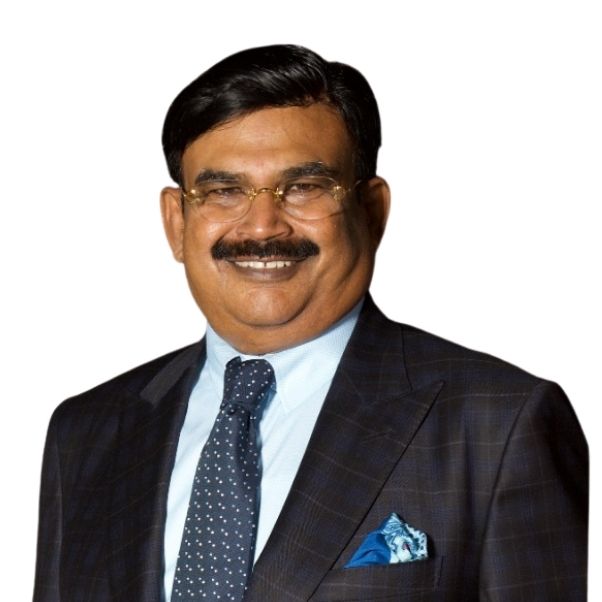 Mr. G. Rathinavelu
Mr. G. Rathinavelu - Chairman & Co-Founder, African India Economic Foundation. He has more than three decades of successful experience providing strategic and operational leadership in executing challenging projects with record of delivering consistent performance. He was a consultant to the Government of Senegal and Guinea Bissau. He initiated the concept and was instrumental in the formation of TEAM-9, a landmark for Techno-Economic cooperation between select eight West African Countries and India. He is striving for Pan-Africa India economic cooperation for the benefit of MSMEs, private and public sectors of both regions through skill development, technology transfer and knowledge sharing.
Dr. Pierre Atepa Goudiaby
Mr Pierre Atepa Goudiaby -Co-Founder of AIEF and he is a Global Architect, Chairman of Atepa Group and also one of the initiators of TEAM-9. He is a "State architect", an emblematic figure in the African architectural landscape, and also designed the African Renaissance Monument Statue in Senegal, a world renowned landmark. He was the President of Order of Architects Senegal and the Union of Architects, Africa. He is also member of the International Academy of Architecture. He has been conferred with many honours and awards globally including Senegal's highest civilian award, the Grand Cross of the National Order of the Lion.
Mr. Shashank IFS
Mr. Shashank -Former Foreign Secretary, Government of India and Ambassador to Denmark, Republic of Korea, Libya and High Commissioner to Malta. He served as Political Minister and Dy. High Commissioner in Pakistan. He had been Senior positions in Indian Missions in New York, Brussels, Hanoi and Cairo. He is a fluent speaker, erudite scholar. He is also an Expert Commentator on International Affairs. He believes that Indian Expertise and experience can contribute to their international and economic development
Padmabhushan Dr. A. Sivathanu Pillai
Dr A Sivathanu Pillai a Distinguished Scientist of India is currently DRDO DS Kothari Chair for Research & Innovation at IIT (M) Research Park. Regarded as the Father of BRAHMOS, he was former Distinguished Professor of ISRO and Chief Controller (R&D) of DRDO. His immense knowledge will benefit the young brains of Africa and will be tuned to meet the future technological challenges.
Mr. Anil Shinde
Mr. Anil Shinde went to IIT Delhi in the 70s and then completed his engineering studies in Germany. He was the first Indian Entrepreneur to manufacture and export video games and electronic toys from India, and has won several awards. He has sphereheaded several Revolutionary initiatives in the Agricultural space and heads the Farmer's Association of India. He is keen to share his Agri knowledge to improve the African agro and develop their food supply chains to cater not only Africa but also other country and thereby transforming Africa to be the food granary of the world.
Mr. Ravi Kumar S Joshi
Mr. Ravi Kumar S Joshi a retired Indian bureaucrat has served in the Ministry of Defence and the Cabinet Secretariat, in various administrative and research positions. He has done diplomatic assignments in Maldives, Kenya and Austria. While in Vienna, Austria, he was also the Dy. PR to the UN Office on Drugs and Crime. His areas of expertise are Russia, Central Asia, Pakistan, Iran, West Asia and interested in African empowerment though Indian experience.
Mr. Rana Som
Mr. Rana Som is a seasoned corporate leader who has had over 40 years of management experience at the highest level, especially in the fields of metals and mining, in various large public & private sector organizations In India. Mr. Som had been the Chairman and Managing Director (CMD) of India's largest iron ore mining company, viz., National Minerals Development Corporation (NMDC). Mr. Som was also the CMD of another mining company, viz., Hindustan Copper Ltd., which had been the only copper mining company in India. Mr. Som holds a Masters degree in Economics and a Post Graduation Diploma in Human Resource Management.
Mr. Hiren Banu
Mr. Hiren Banu a Financial expert. He has extensive experience in business development and management worldwide more so in Africa. Under his leadership, innovative banking and financial solutions have been planned to meet the growing challenges of Individuals and Businesses including corporate specially to benefit MSMEs of India and Africa.
Mr. R. Kanchanavelu
Mr. R. Kanchanavelu holds a Bachelor of Civil Engineering and Masters in Business administration. As a management consultant and a Project Engineer, he has gained wide experience in various infrastructure development projects in different environments across Africa and India.
Mr. Thierry Cabou
Mr. Thierry Cabou is a senior management professional with strong roots in Africa and rich experience over a span of 20 years in the field of business law, investment banking, fundraising, mergers & acquisitions. Mr Cabou holds senior positions in various global organizations. He is also the resident of Cabou Group, which is involved investment banking, construction, green energy solutions and advisory services to various countries in Africa. Mr Cabou is the youngest African among only 18 Africans to ever receive theprestigious title of Knight of the Sovereign Order of Saint John of Jerusalem, of Rhodes & of Malta.
Dr. G. Balachandran
Dr. G.Balachandran was till recently a Distinguished fellow at the Institute for Defence Studies and Analysis, Delhi where he headed the centre for North American Studies. Trained as a Physicist (M.Tech. in Applied Physics, University of Calcutta), Engineer (M.Sc.(Engg) Imperial College of Science and Technology, London) and Economics and Computer Science (Ph.D. University of Wisconsin, Madison USA), he has had a varied work experience as a Software Engineer (IBM European research laboratories, Winchester, UK), Press (Development Correspondent of The HINDU and Consulting Editor ( Business Standard)), Consultant in Science and Technology (Embassy of Brazil, Delhi), Trade information network (India Director of the multi-country UNDP project TIPS), Academic teaching (Visiting fellow, Carnegie Mellon University) and research at various think tanks.